Patti's Newest Rock Art Book: BIBLE STORIES ROCK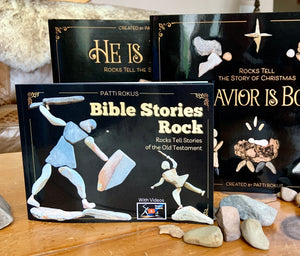 THREE books in one! Rocks tell 14 epic stories of the Old Testament.
🌟 SEE the rock pictures
🌟 WATCH the 25 videos
🌟 READ the short stories
🌟 RECREATE the rock art with your own pebbles
🌟 DISCUSS the bonding questions
🌟 LIVE empowered by your growing faith in our Savior. Imaging empowering our children to know they can walk with God and be filled with His power!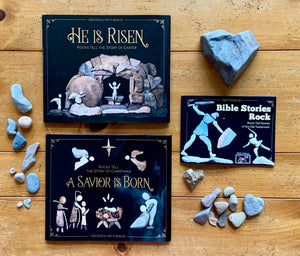 Even the rocks & pebbles testify of Jesus! Award-Winning Picture Books, Tutorials, and Meaningful Fun by Patti Rokus
Over 50,000 sold! Amazon #1 Best Seller
A Savior Is Born
A SAVIOR IS BORN - Rocks Tell the Story of Christmas. English, German, Korean, French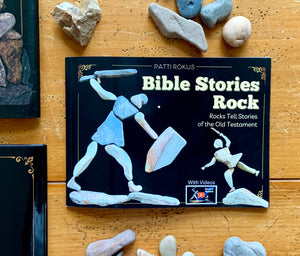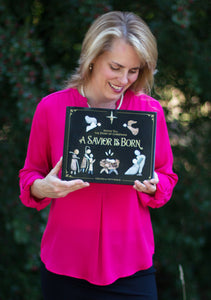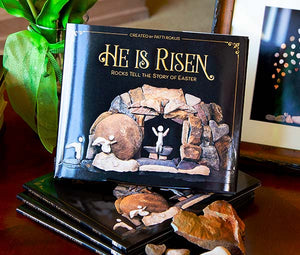 Why Jesus Matters
This compilation video tells the story of the mission of Jesus Christ.  Each event is also available as a separate video--great for lessons, class time, and family conversations.
Testimonials
The rock art in this book is stunning. There is so much extra material — links to videos, conversation questions, ways to think about the stories in modern day applications. It's a book to be shared, read and reread, discussed and digested over and over. These would make really great gifts, too. This is Patti's best yet.

LisaGarfield
Its a grand contribution to the world of children's
books and especially to add more light to the teaching of the gospel.

Shauna Kaiserman
These works of rock art of
scripture stories are, without a doubt, "MUST-HAVES" in any Christian family library! Children of all ages love them and pore over them as they search each page for the objects, people, and symbols for each part of a story. They are unique and amazing books, and I
can't say enough about these beautiful portrayals!

Gayla Rounds
Make Rock Art with Patti Rokus on YouTube
Come Follow Me Rock Art Lessons.
Subscribe to Patti's Youtube channel for new Bible Story Rock Art How To's, Animations, Bible Storytelling, and Activities!
Buy Prints, Cards, Gifts on ETSY
For Prints, Cards, Digital Downloads, Sheet Music, eBooks and more, please visit Patti's ETSY store.
rock art camp for kids is online now
39+ Super Fun Art Lessons at our virtual Rock Art Camp
Email RockArtCamp@Gmail.com for more information, as we are changing platforms right now. Soon we'll have a new website up for RockArtCamp.com to get all the details. Act quickly to get the greatly reduced introductory price before we raise it.
All classes are pre-recorded, so you can do them on your own schedule. Price includes all the kids in the household.
Bedtime Power Audio Program & Toolkit
This is a lullaby meditation for kids with relaxing music, bedtime stories, big breathing, in-bed stretching, guided visualization, and messages of self worth by award winning artist, Patti Rokus
Create calm and build self-worth every night.
Buy Now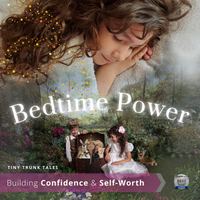 Create Calm in Turbulent World (Why Rocks Matter)
Overwhelm and underwhelm are depressing us.  Our lives are over stimulated and under purposed.  We're bombarded with content that is constant and engaging, and yet we're unsatisfied. Like cotton candy, it tastes good, but the huge ball of yumminess disintegrates into nothingness once we eat it.
This lack of emotional, mental, and spiritual nourishment has consequences.  We see the effect in the increased anxiety, depression, self-harm, rebellion, and illness all around us.  There is a remedy.  The more we can quiet our minds, reduce the constant noise, limit the shallow connections to others, and connect to our hearts and to God, the more we find peace and contentment. And once we find that connection, we will desire to love and find ways to give of ourselves.  Authentic connection to God, ourselves and others is what we all hunger for.  A life of constant motion and noise will not get us there.
Nature and her gifts, such as rocks, can be a catalyst for us to find wholeness again.   Rocks can be a way to deepen our connection to God and to ourselves.
I'm offering a simple way to play, relax, and reconnect to ourselves and to God. Finding, organizing and creating with common rocks and pebbles is a calming activity that opens space in our hearts for God to enter and fill us with love.
--Patti Rokus
This section doesn't currently include any content. Add content to this section using the sidebar.