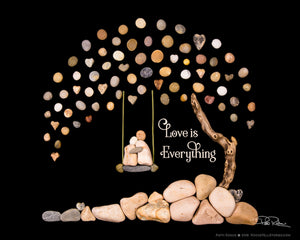 This 8x10 Photo Print says,
"Love is Everything"
The print comes with an acid-free backing board, and is placed in a clear plastic protective wrap.
All rocks were hand picked in the wilderness by the artist, Patti, and no rocks we modified in any way, (except soaked and brushed clean).
This rock sculpture is also found in the book, He is Risen - Rocks Tell The Story of Easter, by Patti Rokus, published 2019 by Zondervan (Harper Collins).  But the text on this print is not in the book.